New Electronic Device Policy
Research is showing that student achievement and feelings of being safe while at school are reduced when schools allow students to freely access their personal electronic devices and social media during instructional time.  In response to this, Hillside High School students will not be permitted to use personal electronic devices in the school during instructional time.  If a student is using their personal electronic device in the school during any scheduled class times, they will be taken from the student and handed in to the office.  The student will be allowed to pick up the personal electronic device at the end of the day.  If a second offense occurs, parents will be required to pick up the phone and a meeting will be held with school administration, the student and parent.
School News
Responsive Instruction in Quality Learning Environments
Posted on

February 15th, 2019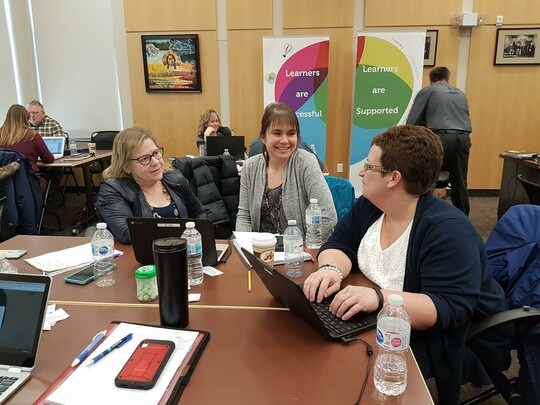 Building a culture of excellence through Quality Learning Environments (QLE)
Key Domain: Responsive Instruction
Responsive Instruction considers the needs of all learners so they can achieve success, and is one of five domains under Quality Pedagogy in NGPS Quality Learning Environments (QLE). With responsive instruction, the teacher is flexible in the delivery of instruction and adapts to ensure student engagement and understanding, through the effective use of research-proven best practices.
"For me, one of the most valuable parts of our exploration of QLE is the process of self-reflection on my own practices and beliefs as a teacher. We can all find areas for growth as we delve deeper into the domains of Quality Learning Environments!"

- Trina Lamarre, Teacher, Grasmere School
Quality Learning Environments are one way Northern Gateway school leaders and educators are enhancing quality learning for all students. The work entails an ongoing commitment to professional growth and development of teachers and school leaders in ensuring that strong universal instructional and leadership practices are developed, shared and practiced in all schools. 
The five domains of quality pedagogy:
The Engaged Professional
Purposeful Assessment
Intentional Planning
Positive Classroom Culture
Responsive Instruction
Read more about Quality Learning Environments http://bit.ly/2GG46KE!
The development of NGPS' QLE is guided by a divisional Steering Team of principals and faciliated by our colleagues and consultants at Jigsaw Learning jigsawlearning.ca. The QLE School Leadership Team is comprised of principals, assistant principals and lead teachers from every school in our division. The School Leadership Team reinforces QLE learning and direction at the school level by facilitating professional learning within their school community, developing tools to support Quality Pedagogy and connecting and networking with other schools.   
Learning for Life. Together.