School News
Walking Together - Sturgeon Lake, Hillside, Fox Creek, Finland, Iceland
Posted on

May 12th, 2019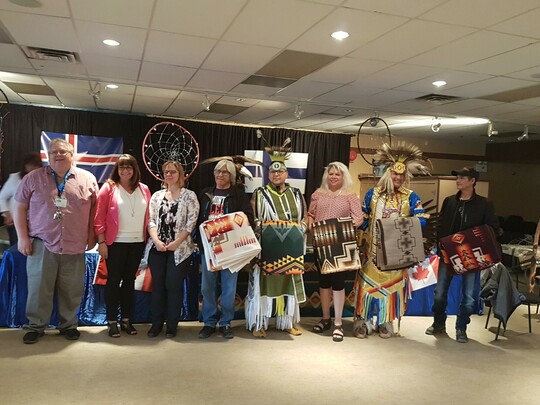 Walking Together: a rich, personal and powerful day of learning.
Yesterday we had the opportunity to walk alongside students, staff and community members from Sturgeon Lake, Valleyview, Fox Creek, Iceland and Finland for a day of cultural learning and experiences. The day began at Hillside Jr/Sr High School with introductions, new friendships, a traditional smudge and the emotionally moving KAIROS Blanket exercise.
The smudging was officiated by Sturgeon Lake Cree Nation (SLCN) Elder Rosanne Mustus and took place outside the school at the beginning of the day. Rosanne explained the practice of smudging as everyone stood in a circle, "It is a pleasure to share our culture and do this smudging ceremony with everyone here today," Mustus said as she explained the proper procedure. She also prayed in Cree and translated to English before the ceremony.
The KAIROS Blanket exercise is a powerful, interactive history lesson - developed in collaboration with Indigenous Elders, knowledge keepers and educators – that fosters truth, understanding, respect and reconciliation among Indigenous and non-indigenous peoples.
Students and staff participated in the exercise which invited participants to step into the roles of Indigenous peoples in Canada. Over the course of an hour or so, Hillside students and Indigenous Support Teacher, Sharmaine Boman, led us through five hundred years of colonial history – from precontact to treaty-making, colonization, and resistance. Some were asked to leave the circle representing victims of disease, hunger and violence. Others were directed to leave their blankets and move to residential schools. As we reached present day, there were only a handful of isolated participants on tightly folded blankets left. Following the exercise, Elder, Rosanne Mustus, invited us to participate in a Talking Circle to process the experience as a group. Students and staff, from all countries, were quick to share their thoughts and feelings.
In the afternoon, we had the honour of visiting Sturgeon Lake Cree Nation, where we were warmly welcomed by Elders, Chief Clyde Goodswimmer, Councillors and community members for a jointly planned afternoon including welcoming remarks from SLCN Chief and Council. a smudging, a demonstration Pow Wow with dancers and a drumming group, and a meal.
Fox Creek School Principal, Ian Baxter and Hillside Jr/Sr High School Principal, Darlene Wood gifted the Chief and Council with blankets and tobacco during the session. Chief Clyde Goodswimmer stopped by to welcome everyone to SLCN and Council presented gifts to the guests from Finland and Iceland. Fox Creek School has six students and three teachers visiting from Iceland and Hillside Jr/Sr High School has six students and two teachers visiting from Finland who attended the day.
SLCN emcee, Arlene Sunshine welcomed everyone to the gathering and encouraged students to greet the Elders present,
"This is a new beginning to new relationships. Children are our future and our purpose. A lot of our children have attended Hillside Jr/Sr High. When my kids are at school, those teachers are my children's guides. Today, we start to make new paths, new beginnings, new journeys, walking in partnership, hand in hand."
SLCN Elder Barb Goodswimmer addressed the gathering, shared SLCN history and traditions and thanked the Pow Wow Committee for their dedication and the drummers and dancers for sharing their trades with the group. She explained some of the regalia creations worn by the dancers and how each Indigenous regalia is handmade to how the person wearing it feels, representing the person's spirit or soul.
Hillside Principal Darlene Wood shared,
"We are so excited for the opportunity to work together and strengthen our relationships between schools, our community and parents, and to share this with our guests from Finland and Iceland. As a part of the international exchanges Hillside and Fox Creek are involved in, I am very excited to share this endeavour. Certainly this is a first for all of our communities to come together in a partnership project like this. We are all walking together."
The Pow Wow demonstration included adult and Hillside student dancers and a Grand Entry by SLCN dancers. The dances consisted of Fancy, Jingle, Grass, Crow hop, women's and traditional warrior performances. Everyone in attendance participated in a Round Dance and enjoyed a meal together to end the day. 
We would like to say a special thank you to Sturgeon Lake Cree Nation for inviting us, and for sharing your knowledge, culture and spirit with us. It was a truly inspiring day with moments of learning that will last a lifetime for so many. Hihi!