Greenview Regional Multiplex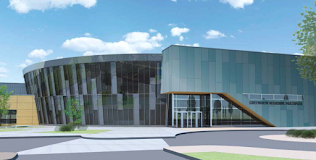 Ethan Barr from the Greenview Regional Multiplex has been in touch with the Grande Prairie Sports Council that give resources for a variety of sport opportunity programs.  There are various varsity sports such as football, volleyball, basketball, track & field as well as badminton played at Hillside. If any of the students would be interested in continuing to train and play in these sports over the summer he can get in touch with people who might be interested in coming in and coaching/running these sports over the summer holidays.
Cougars News
Junior Badminton - Hillside Mini Tourney RESULTS: April 16th
Posted on

April 16th, 2015
Our junior badminton team did extremely well in the mini-tournament held @ Hillside on Thursday April 16th, 2015.  Because of the smaller numbers of schools, two categories were combined.  Schools that participated were Glenmary, Ecole Heritage, G.P.Vanier, and Prairie River.  Out of 15 categories we had eight 1st place finishes and seven 2nd place finishes. 
1st place finishers were:  Michala Serediak (S), Brooke Kobe & Cali-Jaye Rohloff (D), Rebecca Burgoyne (S), Kirsten Stewart & Jessica Hamilton(D), Josh L'Hirondelle & Jaycie Fjeld (D),   Shauna Johnson & Cheyanne Kobe (D), Cody Caron & Rylee Hebert (D), Tyler Wirth & Nyah Czaban (D)
2nd place finishers were: Austin Caron(S), Sam Coward (S), Aimee Caron & Cara Meyers(D), Cody O'Toole & Ben Sigurdson (D), Dylan Tollefson (S), Cody Mulligan & Kenton Morrison (D) , Cheylin Patenaude & Josh Dickson (D)